Apprenticeships at Hammerwerk Erft
We enjoy training young people in order to to share our enthusiasm for steel as a quick-change artist and to create qualified employees for our company. Hammerwerk Erft provides extensive training and does so with the conviction that young people are the future of our company. In the year 2023, there will be exciting and challenging apprenticeships in eight different professions. Become an apprentice at a medium-sized company operating throughout Europe with 270 employees, which is represented with its high-quality open-die forgings wherever the most demanding technical requirements are encountered.
"We offer our motivated and dedicated apprentices the highest standards of education and training.  The combination of theory and practice in our company ensures a varied and exciting apprenticeship.  After successful completion of the apprenticeship, our well-trained specialists quickly take on responsibility and thus form the future of our company. We look forward to getting to know you."
— Marc Schmitz, Managing Director
With us, you'll find the apprenticeship which suits you best!
Mechatronics engineer

Materials tester

Electronics technician for industrial engineering

Cutting machine operator

Open-die forger

Industrial mechanic

Machine and plant operator

Industrial management assistant
Become part of our team of around 270 employees. Here are some of the key advantages you can expect.
Remuneration according to collective agreement

Good chances of being hired after the apprenticeship

High quality of apprenticeship including inter-company apprenticeship

Early assumption of responsibility/independent work

Good promotion prospects

Assumption of travel expenses

Tablet
Get an insight
In the following lines, we would like to give you a brief insight into the interesting and complex tasks that await you as a trainee. For this purpose, we would like to introduce you to some employees who were recently in the same situation as you and who were thinking about what career path to take. Some of our trainees will tell you more about how they came to Hammerwerk Erft, what their apprenticeship with us entails and why this is exactly their cup of tea.
Apprenticeship as an industrial management assistant: Daniel F.
My name is Daniel F. and I am in my 2nd year of apprenticeship as an industrial management assistant and am highly motivated. Even before I started looking for an apprenticeship, I often stumbled across the name "Hammerwerk Erft" through family and friends as a company that is both regionally rooted and internationally active. I am glad that I decided to apply for an apprenticeship at this company. The colleagues treat you as equals and you learn a wide range of skills through the varied tasks in the areas of administration, human resources, materials management and accounting. The additional interaction between the vocational school and the company not only makes the apprenticeship a lot of fun, but also helps to understand the individual processes of a company. In addition to the many benefits, such as the coverage of travel costs and the provision of a modern digital terminal, which is provided free of charge during the apprenticeship, you are offered good opportunities for further apprenticeship and have a high chance of being hired.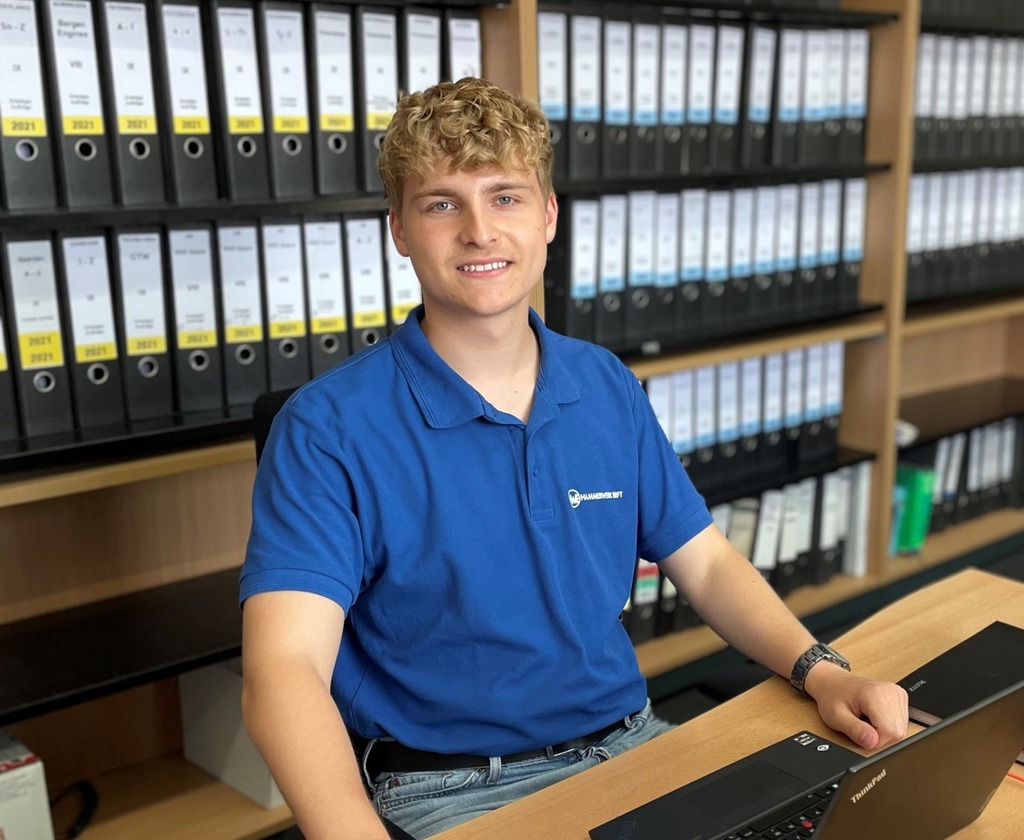 Training as an industrial management assistant: Justin O.
I decided to train as an industrial management assistant at Hammerwerk Erft in Arloff because here one can enjoy a top quality of apprenticeship, which you can expect in every area relevant to the apprenticeship. I think that the working atmosphere is excellent and that there are always friendly, helpful and competent colleagues around you who make the apprenticeship period easier.
I certainly enjoy my apprenticeship as an industrial management assistant at Hammerwerk Erft. I was given the opportunity to work in two challenging departments in a very short time, and I was never overlooked and was involved right from the start. So basically, every apprentice is allowed to take on responsibility fairly quickly and is therefore able to work independently and with confidence. In addition, apprentices are provided with tools such as tablets that they need for vocational school, which is not a matter of course. All in all, I'm really enjoying my apprenticeship here and I'm looking forward to the next few years together.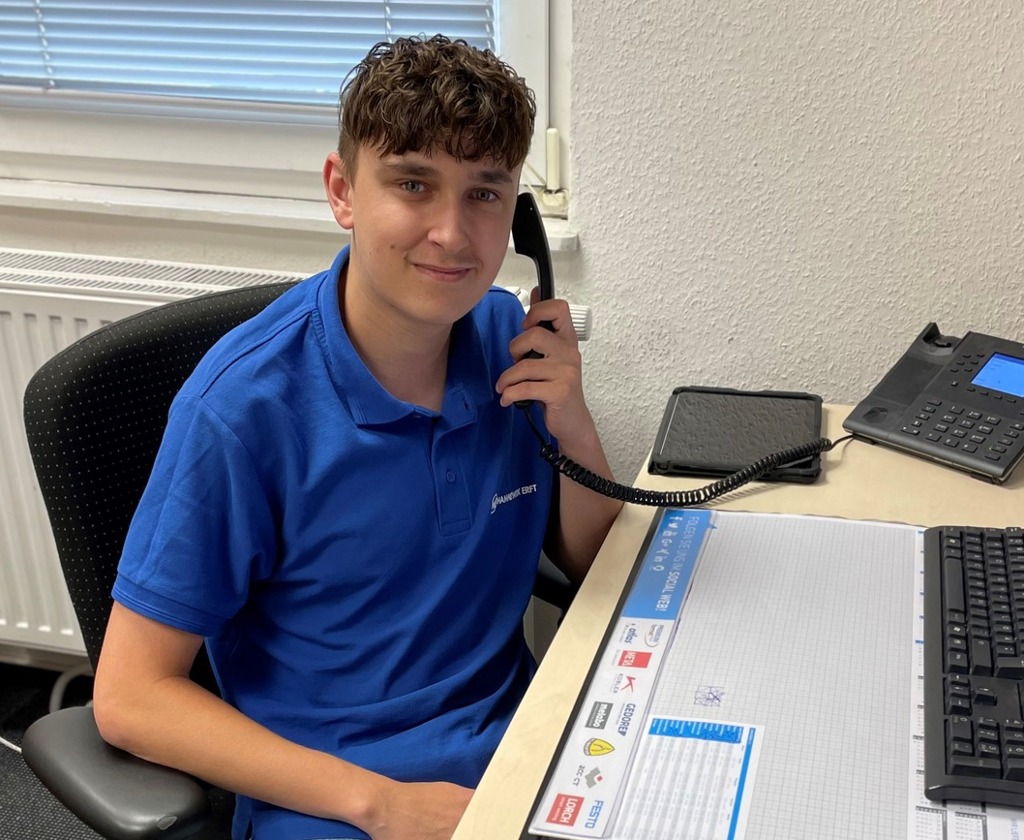 Apprenticeship as a cutting machine operator: Marvin N.
My name is Marvin N., I'm 21 years old and I'm doing my apprenticeship as a cutting machine operator at Hammerwerk Erft. I am currently in my 2nd year of apprenticeship. My decision to do my apprenticeship at Hammerwerk Erft was initially based on the personal conversations that were held. Secondly, I was fascinated by the remarkably large forgings that are produced, as well as the variety of learning provided by the school, the BZE and the company, spread over block courses. In addition, Hammerwerk Erft is a family business, which I personally like a lot, and they also place a lot of emphasis on taking on trainees.. In our apprenticeship workshop, we produce spare parts for our own machines, among other things. You have to do a wide variety of tasks, be it turning threads or milling grooves. Accuracy and the correct handling of the various measuring devices are just as important as the correct operation of the lathe or milling machine.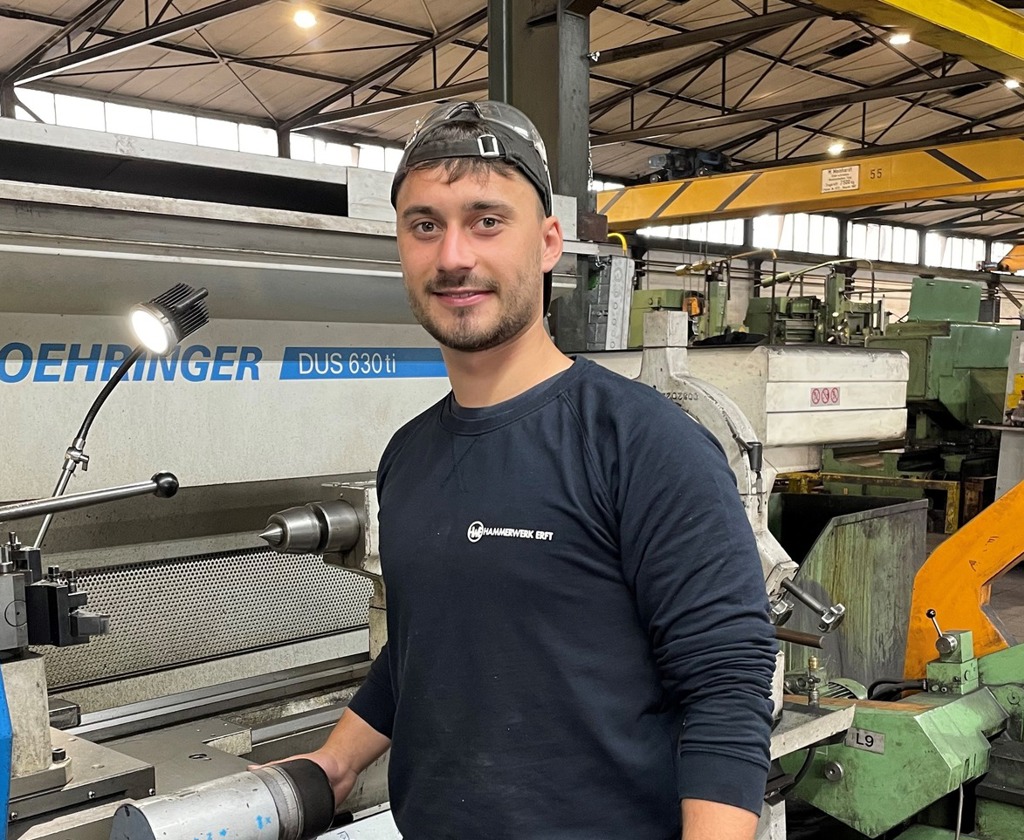 Marco S.: Trained cutting machine operator
Hello, my name is Marco S. and I am happy to share my professional background with you. At the beginning of the 9th grade, I went to the apprenticeship fair at the vocational training centre in Euenheim to find out about the job of a cutting machine operator at Hammerwerk Erft. I was already quite intrigued at this point and quickly decided to do a 3-week internship in the lathe shop. I was very well received there and learned many interesting things. In August 2016, after passing my intermediate secondary school leaving examination, I started my apprenticeship as a cutting machine operator. The apprenticeship was a very exciting experience for me, as I was able to get to know a wide variety of lathes and milling machines right from the get-go. In January 2020, I successfully completed my apprenticeship as a cutting machine operator and was taken on as an assistant. In January 2022, I was appointed deputy foreman of the turning shop and started vocational school in March. I am very happy that I decided to start my apprenticeship with the Hammerwerk Erft company while I was still at school.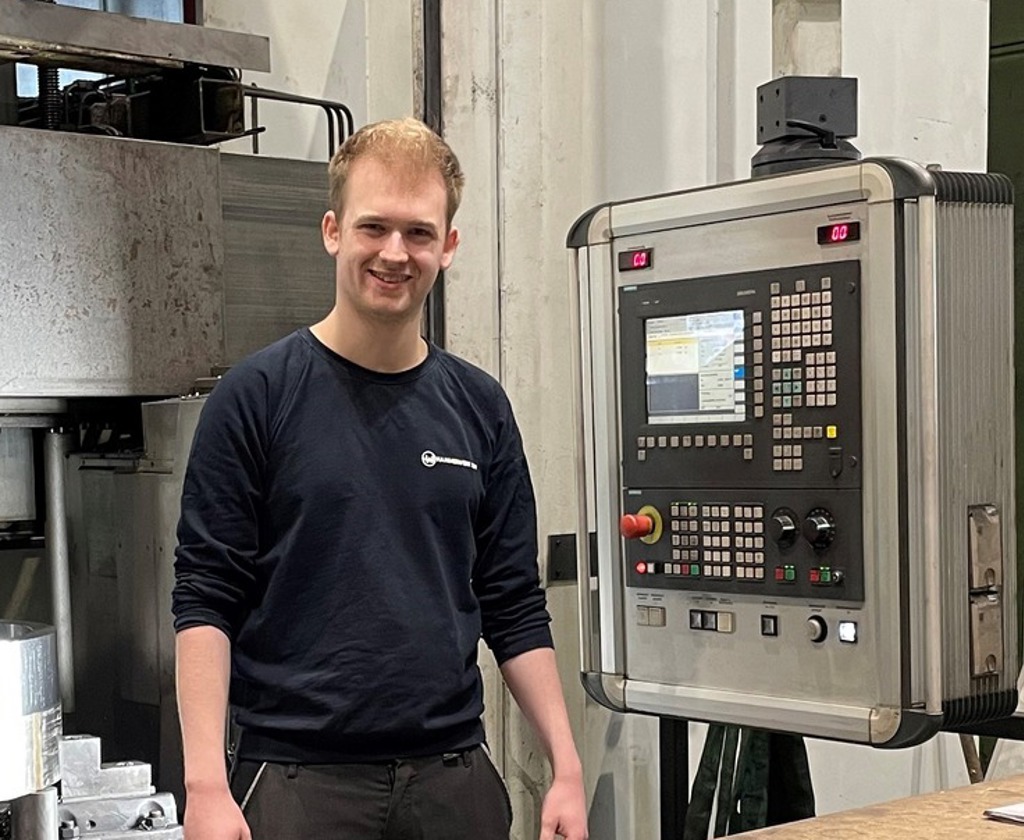 Checklist for your application
Schriftliche Bewerbung
Here is a list of the documents we need from you: cover letter, curriculum vitae, references, if available certificates of internships, etc.
Create a PDF file and send your documents online. The content should be clear and concise. In the cover letter, let us know why you are applying for the respective apprenticeship and what requirements you have for it. We would also like to know a little more about your hobbies or special interests. The purpose behind your application is to pique our curiosity and make us want to learn more about you. What happens next? We evaluate your documents and contact you for a personal interview so that we can get to know you better and you can get to know us better.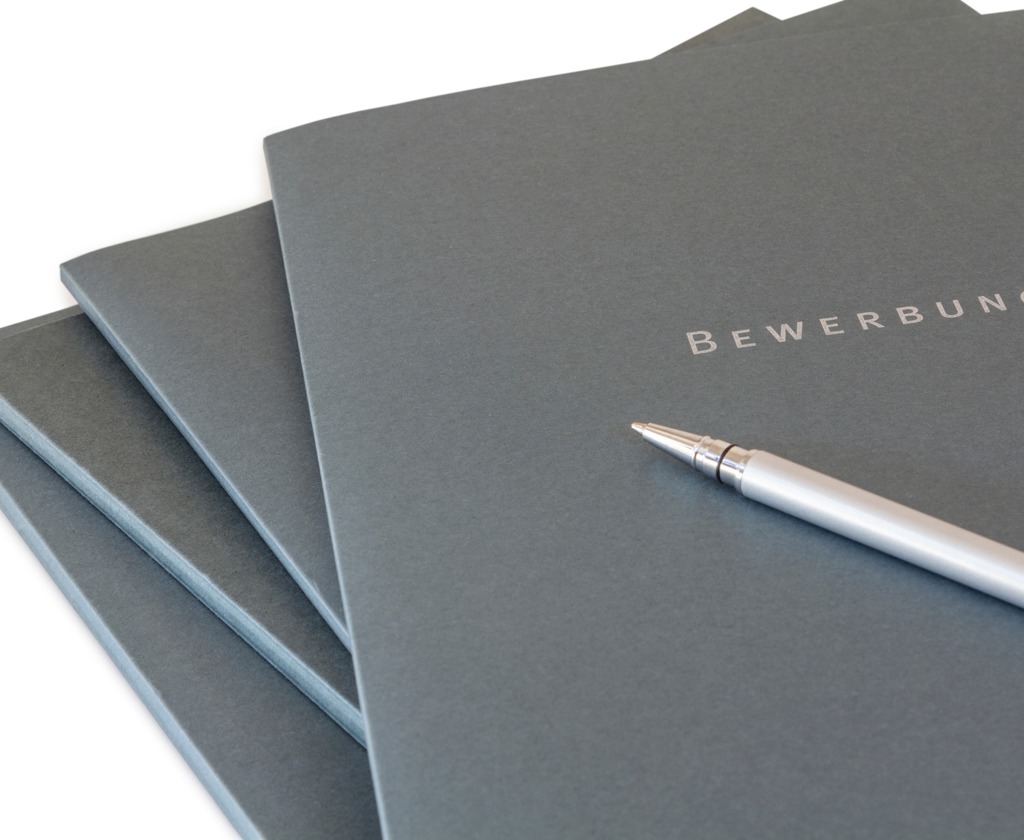 Checklist for your interview
All of us have been in the same situation as you. Your pre-interview jitters are creeping up. The interview process is all about getting to know you better. You must remember that you have already aroused our interest in you with your application. Take your time to think about what we should know about you and what else you would like to know about us. Here's our most important tip for your interview: Be yourself.
What do we expect? We expect you to want to learn and to grow with us. We expect you to be reliable and responsible, and to work together with your team. In return, we offer you the chance to set the course for your professional future with an excellent apprenticeship. After your apprenticeship, you will be in an excellent position to continue your professional development with us.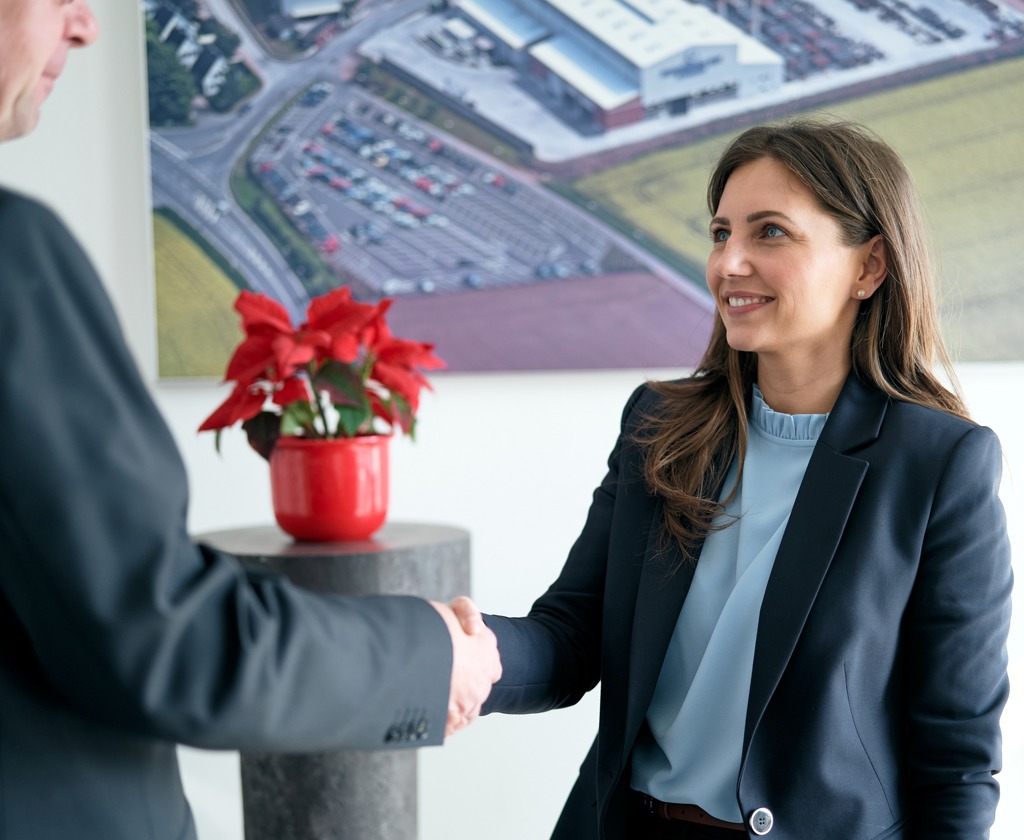 Hammerwerk Erft's presence on social media
Our social media channels can give you a glimpse of what goes on behind the scenes: Our videos from production and posts on current topics and events ensure that you are always up to date.
Have we sparked your interest?
If so, we invite you to take the first step - with your application. There are several ways to apply for a job with us. The quickest is via our online application management. Here are the advantages: We can respond to your application promptly and you save time and money. If you have any further questions, you can reach us by phone or WhatsApp at +49 (0) 02253/311-169.
Chat on WhatsApp
Go to the online application